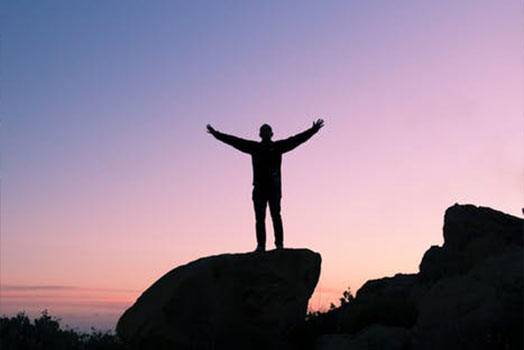 Living on the edge is the BEST place to live. Imagine each of us lives on a 10×10' square and all our squares surround each other suspended in the air, but not connected to one another. You know. I know. That if we step over any of those four edges, we will fall, long and hard. We cannot even see the ground from our square. It scares us. The fear can keep us standing close to the center, afraid to move too far in any direction.
Yet I can tell you, from experience, the best place to live is on the edge. The edge is where you feel alive. The edge is where you grow. The edge is where you smile and really know you are pushing your limits to make life the most meaningful it can be for you and those you love.
Living on the edge requires you not only to do things which cause you fear, uncertainty and anxiety; it will also cause great fear to people who love you. I am here to tell you that is okay. That is natural. You do not want to feel fear or cause others to feel fear. But nonetheless, you cannot let fear stop you. As Naguib Mahfouz says, "fear does not prevent death. It prevents life."
Everything you dream of is on the other side of your fear. All you have to do is turn the page! When I moved from a small suburb in Ohio to New York City at the age of 18 with no one in NYC to "catch me" I was on the edge. When I packed up my little car in Ohio so full of clothes that when I opened the door, the clothes fell back out….on my way to a job interview in Virginia with no plans on where I would live or sleep if I got the job, I was on the edge. I did get the job by the way, and then I proceeded to a grocery store where I picked up an apartment guide and drove around to find a place to live. I slept on the floor until I could manage to actually settle in there.
When I went to Germany ALONE for work not knowing the German language and again having no one to "catch me" I was living on the edge. When I could not get my German-speaking GPS to change to English and got lost on the way on the autobahn with no cell phone and no one to call anyway, I survived. When I lived on the edge and struggled to survive, I thrived! I grew. My square expanded. My confidence grew. I knew, in those moments, that I was truly alive. I knew, without a shadow of a doubt, that I could survive.
When I put in for a transfer from my beloved New York field office to Fayetteville, NC, where I never had been, and my Special Agent-in-charge made me lie and say I was SURE it was what I wanted, I was on the edge. I had no idea what the future held in that moment, but I knew, deep in my gut, that I was meant to go there.
Only later did I become blissfully aware that I was meant to move there to meet my soulmate. A month after moving to North Carolina, he was standing there waiting for me. Looking at me; having a drink with his buddies and working up the courage to come say hello. He was facing his own fear. And he did. It was a story out of a really funny and romantic novel. I was on the edge. He was on the edge. And we loved every minute of it.
Living on the edge means doing things that not only might scare those around you, but it means doing things other people will not understand. I am here as a witness telling you that is okay. They are only scared because fear is real to them too and they love you. They only do not understand because it is not their life; It is yours. Trust your gut. Take chances. Feel the wind in your hair as you lean over the edge and see…the whole beautiful world.
With joy from the edge,
Nikola Rosa