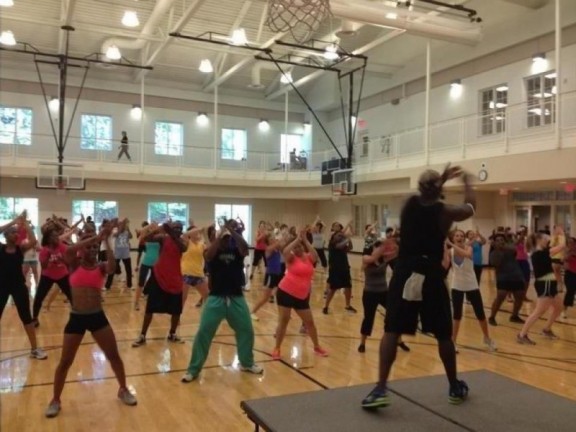 I walked into the gym and took my place in the lineup. I was anxious, but excited. Over the prior few months, I had come to love dance fitness. Zumba classes had literally been changing my life. My depression was lifting, my energy on the rise and my weight was starting to drop off.
I felt better than I had in a long time, but I wanted something more. Zumba was great, but I knew dance fitness had more to offer. As I looked at the class around me and the teacher, I knew this would be something I had never experienced before. The class was mostly women, but of all ages and backgrounds. We were black, white, young, wise, stay-at-home-mom's, lawyers, retirees, you name it. What united us was one man. One man with a passion and a personality. He was a big black dude, yes, that's right, a DUDE, and he was about middle-age. He was not what you might expect for a class full of women.
The music started pumping and off we went, mirroring his choreography and for that hour, having the time of our lives; and I knew on that day, there was no going back. That was a couple years ago. I have been following him in Cardio Funk ever since! His name is Lem Houston. He is an entrepreneur, real estate mogul, and personal trainer.
I interviewed him recently to get a little inspiration from his story of pursuing his passion. You see, Lem did not set out to be a dance fitness instructor. On the contrary, he made his path and money in the corporate world as a banker. He had huge success there until the recession hit and he lost his shirt.
At that point, he had a choice. He could continue on the path he was on and build back from the ground up, or he could make a change. He decided to make a change and that choice has literally changed the lives of thousands of people around the greater Charlotte area. He has helped people lose weight, get fit, get strong, de-stress, have fun, build their confidence and more.
When I asked Lem about his career as an entrepreneur and Cardio Funk legend, he had this to say: "This is not work. This is what I do. It's like brushing your teeth." As far as the tough time he went through with the recession, he said, "Life can be totally discombobulated so fast." I would add this…it's how you piece it back together that matters. His story is such an inspiration to me! You see, I could tell as I watched him that first day, he loved his work. He was having fun, living his passion and helping people in his own unique way. He was happy.
As humans, we naturally tend toward the path of least resistance. When the recession hit him, Lem could have rode it out like so many and stayed in his career field. He could have spent the rest of his life in the corporate world, made a ton more money, and been in his comfort zone. But he had already had a lot of money. He knew what it felt like to have a lot and he knew what it felt like to have little. He knew having a lot of money did not make him satisfied. He was bored. His job was all dollars and cents and no heart.
He chose a different path and put in the courage, time and sweat equity to build up a new kind of fortune. A fortune of personal stories of those who follow him and rely on him for their workout, their self-care, their fun and their wellness. When asked if he ever regrets getting out of the corporate world, he responded, "Noooooo, I do not miss sitting in meetings. I mean, when you love what you do, it isn't work."
Not only does he love what he does, but his work has given him a platform to give back. He has held special events to raise money for several charities and causes such as combating human trafficking in the local area. Lem has also stepped up to help whenever asked with any opportunity to do good or help someone in need. On April 25, 2020, you will find him warming up participants for a major charity event in the Queen City, the 5th Annual Stephen Siller Tunnel to Towers Foundation's Climb of the Duke Energy building uptown. For more information on this cause, check out tunnel2towers.org and the event @t2tclt.
The Foundation Lem will be supporting on April 25th provides mortgage-free homes to families of fallen first responders, families of fallen soldiers and builds smart homes for catastrophically injured veterans. As Oprah Winfrey said, "To move forward, you have to give back." Lem is a living example of this in the Queen City with his work every day!
For more information on Lem Houston, check him out at energyve.com or follow him @LemHouston.
Check out a video of his Cardio Funk class here!